Pak Water & Energy Expo 2023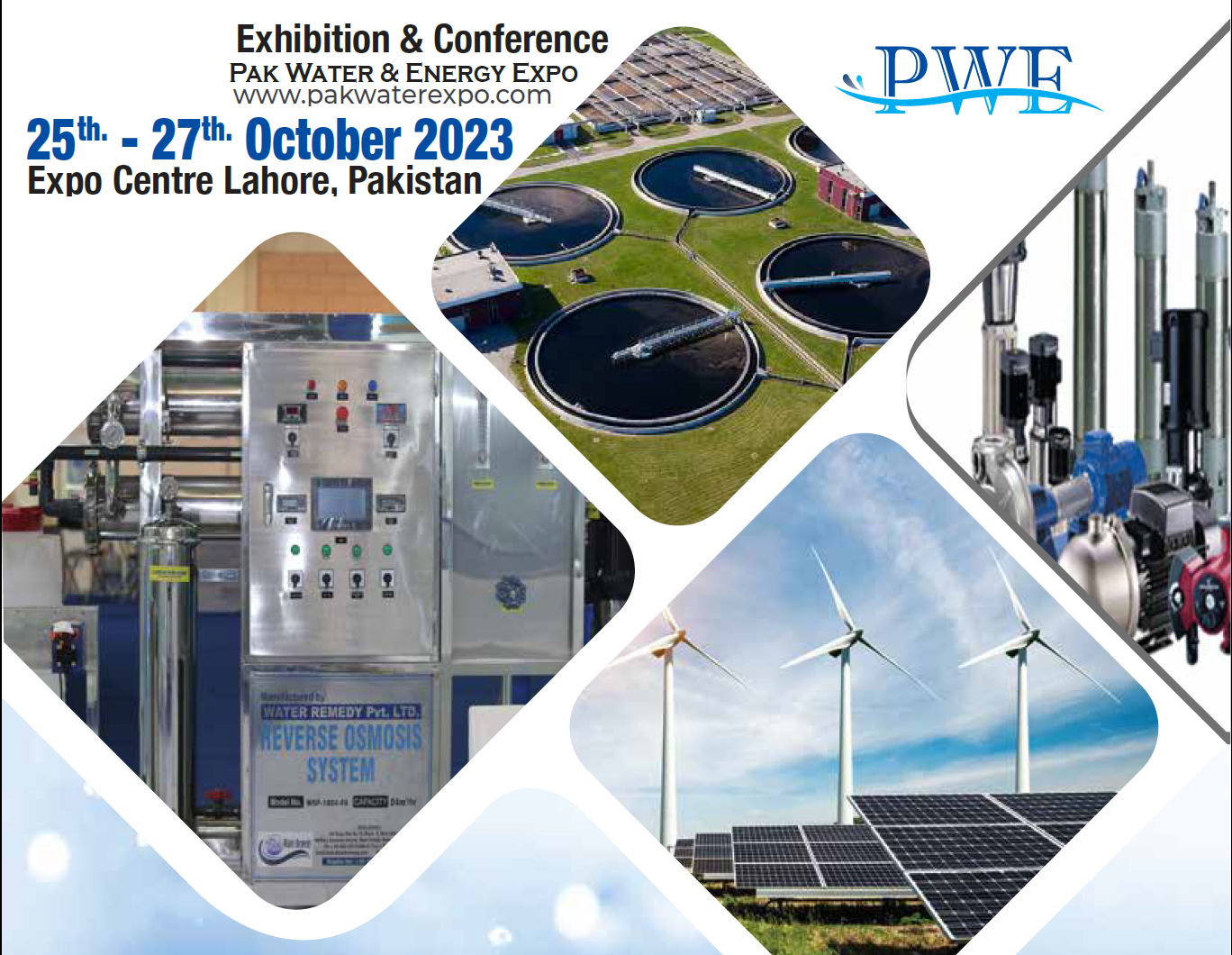 25th - 27th October, 2023 | Expo Centre Lahore, Pakistan
Home | About Us | Exhibitor | Visitor | Show Reports | Gallery | Conference | Hotel Contact Us
Water and Energy utilities are backbone of every industry for its continues operations. Pakistan has seen tremendous growth and many new business ventures to serve growing need of Water and Energy. Awareness of Water conservation, waste water treatment, recycling and renewable energy has expanded the span of activates for these companies. Water and Energy are two vital utilities for every plant and industry. Over the year importance of these utilities have gain importance and with increase awareness of Environmental and Energy Conservation, Water treatment and Recycling and Renewable Energy have added another dimension to consider for Water and Energy Equipment and usage.
Pak Water & Energy Expo 2023 being organized considering these aspects in mind. It is an integrated exhibition and being held annually since 2016 & has become a leading platform for Water & Energy related equipment manufacturers, vendors and service providers. Both local and international exhibitors participate in this event. The exhibition is a showcase for plants and equipment manufacturers, material suppliers for Water & Energy industry. It brings together all the stakeholders under one roof for three days event. The exhibition provides an excellent opportunity of one to one contact for all those who are interested in to promote their products and service to the visitors of the Exhibition. Meetings and discussions on the sideline of the exhibition will help you in shaping and formulating future strategies and business plans. The event offers tremendous business opportunities. It helps to gauge the real pulse of the industry. The participation in the show enhance reputation and profile of Exhibitors and make them an important player of Pakistan's Water & Energy Sector.
Head Office: 3rd Floor, Building # 3C, 22nd. Commercial Street,Phase II Ext. D.H.A, Karachi, Pakistan. +92 305 222 4878; +92 21 3589 5802; This email address is being protected from spambots. You need JavaScript enabled to view it.; www.prime-events.pk
Lahore Office: 19-N, Model Town Extension, Lahore, Pakistan. +92 42 35203621-4; This email address is being protected from spambots. You need JavaScript enabled to view it.; www.prime-events.pk
Canada Office: Advanced Multiple Inc., 6660 Kennedy Road, Suites # 205, Mississauga ON, L5T2M9 Canada. Tel.: +1(647)526-0885; +1(289)752-5315; +1(647)945-7867; E.: This email address is being protected from spambots. You need JavaScript enabled to view it.; W.: https://www.advancedmultiple.ca
US & Canada Office: 1040 Cedar Creek Drive, Gloucester, Ottawa, K1X 0G3 Canada. +13439884125; This email address is being protected from spambots. You need JavaScript enabled to view it.; www.prime-events.pk
UK Office: 9 Blencowe Drive Park Knightwood Park chandlers ford SO534LZ, United Kingdom. +447471656568; This email address is being protected from spambots. You need JavaScript enabled to view it.; www.prime-events.pk
Pak Pharma & Healthcare Expo Lahore, Pakistan

15th. - 16th. February, 2023 | Expo Center Lahore, Pakistan
Arab Health is a very important event for Exhibitors targeting MENA customers. Similarly, Asia Pharma Expo is a very important event for Exhibitors targeting Bangladesh Pharmaceutical customers. Pak Pharma is an evenly important event for Exhibitors having business interests in Pakistan Pharmaceutical Industry. Pak Pharma & Health Care Expo is one of the important exhibitions held at expo centers in Pakistan. It covers Pharmaceutical manufacturing and processing equipment, Packaging materials and machines, API Manufacturers, Laboratory Equipment, Chemicals, Lab Furniture, Medical equipment and Diagnostic equipment. It can be truly classified as an International Exhibition.
Future Healthcare Exhibition & Conferences will be more inclusive and provide a unique experience to both exhibitors and customers. Pak Pharma & Health Care Expo covers both areas of Exhibitions and conferences for the visitors to have synergetic information of industry-specific trends and experience. Health Asia is another event for Pakistan's pharma and Health care industries. Health Asia Karachi, Health Asia online, Pharma Asia and Asia Health Expo having same business objectives as Pak Pharma Expo. Expo Centre Lahore is managed by a dedicated, experienced management company. Pak Pharma Expo is one of their prime event which is held regularly at Expo Centre Lahore to serve Exhibitors serving pharmaceutical industries in Punjab and KPK provinces. Pak Pharma Expo Lahore edition will be held on February 15 and 16, 2023.
Head Office: 3rd Floor, Building # 3C, 22nd. Commercial Street,Phase II Ext. D.H.A, Karachi, Pakistan. +92 305 222 4878; +92 21 3589 5802; This email address is being protected from spambots. You need JavaScript enabled to view it.; www.prime-events.pk
Lahore Office: 19-N, Model Town Extension, Lahore, Pakistan. +92 42 35203621-4; This email address is being protected from spambots. You need JavaScript enabled to view it.; www.prime-events.pk
Canada Office: Advanced Multiple Inc., 6660 Kennedy Road, Suites # 205, Mississauga ON, L5T2M9 Canada. Tel.: +1(647)526-0885; +1(289)752-5315; +1(647)945-7867; E.: This email address is being protected from spambots. You need JavaScript enabled to view it.; W.: https://www.advancedmultiple.ca
US & Canada Office: 1040 Cedar Creek Drive, Gloucester, Ottawa, K1X 0G3 Canada. +13439884125; This email address is being protected from spambots. You need JavaScript enabled to view it.; www.prime-events.pk
UK Office: 9 Blencowe Drive Park Knightwood Park chandlers ford SO534LZ, United Kingdom. +447471656568; This email address is being protected from spambots. You need JavaScript enabled to view it.; www.prime-events.pk
Halal Expo Canada 2023 - Exhibition and Conference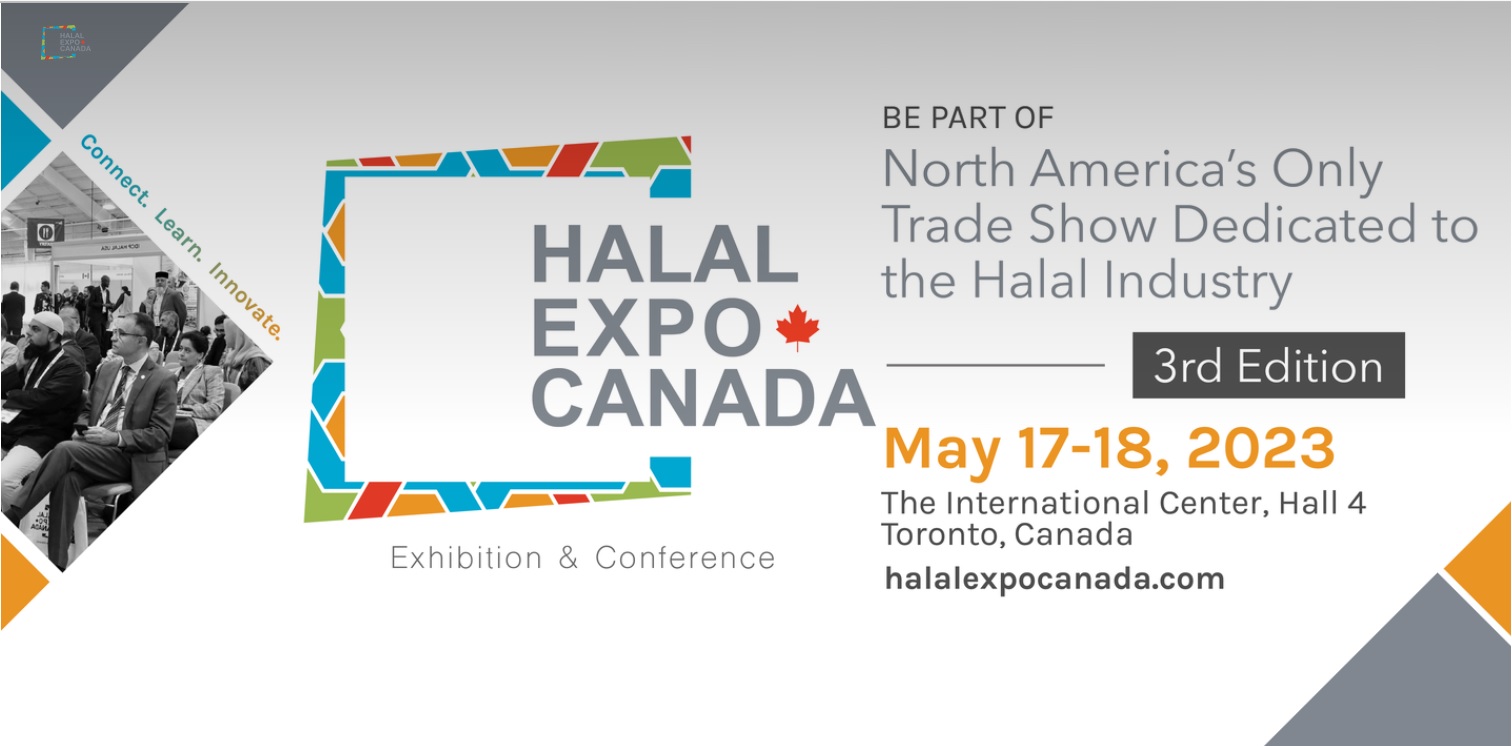 North America's only trade show dedicated to the Halal Industry.
May 17-18, 2023; The International Center, 6900 Airport Rd, Mississauga, ON L4V 1E8 Canada.
Halal Expo Canada is North America's only B2B event dedicated to the halal lifestyle industry and was successfully held on May 17-18, 2023. Thanks to all the local and international sponsors and supporters who contributed to its success.
The expo also had a reinvigorated two-day conference program delivering twelve streams of insightful content, presented by leading experts and industry leaders of the global halal inudstry through keynote presentation, demonstrations, and panel discussions. The 2023 edition of Halal Expo Canada successfully had exhibitors showcase the latest products and services in the halal industry that can contribute to the growing demand of a rapidly developing industry.
The show gathered the highest quality products and services of the Halal industry. A meeting point of Halal buyers and suppliers between East and West. This year, Halal Expo Canada had three country pavilions (Malaysia, Indonesia, and Pakistan), Canadian Halal Pavilion by HMA Canada, Franchise Pavilion, and Halal-Startup Pavilion.
For further information Clickhere

Mississauga Ontario Canada
Tel.: +1(647)526-0885
Get Informed about our services